4. How Much Do Uber Drivers Make?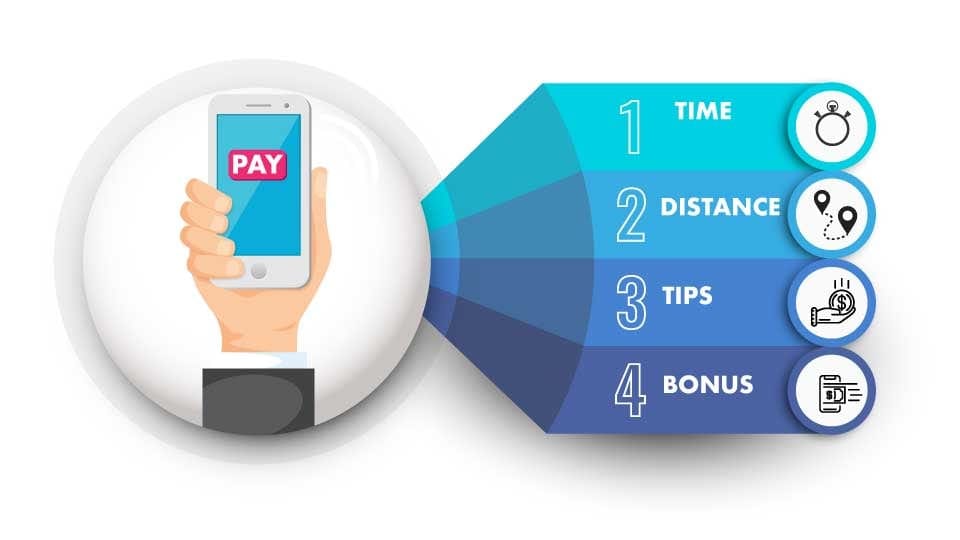 Rideshare drivers are 1099 independent contractors. That means that they earn all of their income when they drive. You will not receive benefits such as health Insurance, vacation and time off or retirement benefits after working for the company.
Generally speaking, when a person makes and pays for a ride with the Uber app, Uber pays a commission on the ride's price to the driver.
There are no official statistics about the drivers earnings. And Uber doesn't list the payout information by market on their website. So, it is difficult to find out payout rates for your city.
Despite this lack of transparency, BestReferralDriver is a long trusted Uber Blog, so we will give you all the information you need to choose the best side hustle for you.
Basically, how much money you are going to make on Uber depends on your location, and how much time you are going to invest in it.
More precisely, according to the Uber app, what you are paid for a given ride depends on
The driving distance
The time
The eventual bonus
There is no fixed salary. Uber's rates may vary by city, region, and time.
Here are some important thing you should know:
You make money based on the number of rides you provide.
The San Francisco headquartered company provides the estimated amount of earnings for every ride before you accept it.
Uber will not pay you for the distance from you to the pick up location. A smart driver avoid to accept pickups when they are often farther away
Uber doesn't withhold taxes from earnings. You have to make estimated quarterly tax payments. Take a look at our complete guide to Lyft and Uber Taxes.
So, how much does Uber pay? We compared the average hourly earnings of our team that include drivers from California, Texas, Illinois and Washington.
The average of our hourly pay was $16.33.
Being our San Francisco member the highest paid Uber driver with an average hourly earnings of $24.16.
If you're considering becoming an Uber Black driver, take a look at our article to find out how much money Uber Black drivers make (we piblished real earnings).
Does Uber Pay for Gas?
Drivers need to pay for their own expenses including gas and car maintenance. You have to take care of your vehicle because every year it must pass the 19-points vehicle inspection.
If your idea is not to find a hobby because you get bored at home, but you want to really make a lucrative side hustle, keep reading what I have to say to you.
To make your side hustle profitable, you must be able to identify how you can spend less.
Fuel economy cars are always the best choice. This is one of the things you should consider when choosing your next side hustle.
If your car gets bad gas mileage, you can probably find a most profitable side hustle. Take a look at our guide of the online jobs and find apps that pay you to walk.
If finally you want to cut your gas expenses, you can get cash back on gas by using Getupside or find alternative ways to get cheap gas.
📌 Uber is offering rewards and incentives to new drivers. Sign up using the link in this page.