Uber Peak Hours
Before starting our article we should remind that COVID-19 and the lockdown are changing human attitudes and behaviors today.
The reality is that there's a perfect time for everything. There is a perfect time to post on Instagram, to post on social media like Facebook or tiktok, to buy a car, to visit Hawaii. Not only are there certain times which are more likely to give you more potential job opportunities, but also some days are far better than others.
Of course, it depends on many factors. However you should know the customers behaviors. In our case when people take rides with Uber.
From a driver's point of view, the best and most compelling earning opportunities are during the surge pricing.
The Uber app has dynamic pricing. When there is a very high demand, prices may increase. This practice of tripling, quadrupling and quintupling ride fares is called surge pricing.
While the surge pricing is probably not the best time to ride Uber since rides are most expensive, it is the right moment to go online.
Indeed, during the surge pricing to incentivize drivers to go online Uber offers them incentives and better rates.
So when are Uber surge hours? Unfortunately, there's no perfect answer. The answer varies based on the month, the day, and a range of other factors. The Uber surge times are always the period of the day when it is better to be available that you can see on the Uber Peak hour chart below.
We focused and analyzed updated data for the best times for Uber drivers around busiest cities including but not only:
Atlanta
Chicago
Dallas
Los Angeles
Miami
New York City
San Francisco
Seattle
From this study, we can deduce the following:
Best times: Every Day - In the morning: 7am-9am. In the evening: 5pm-7pm. Friday and Saturday nights: 5pm-5am.
Best day: Friday, Saturday, Sunday
Worst day: Monday
Here is a visual representation of the study for better understanding: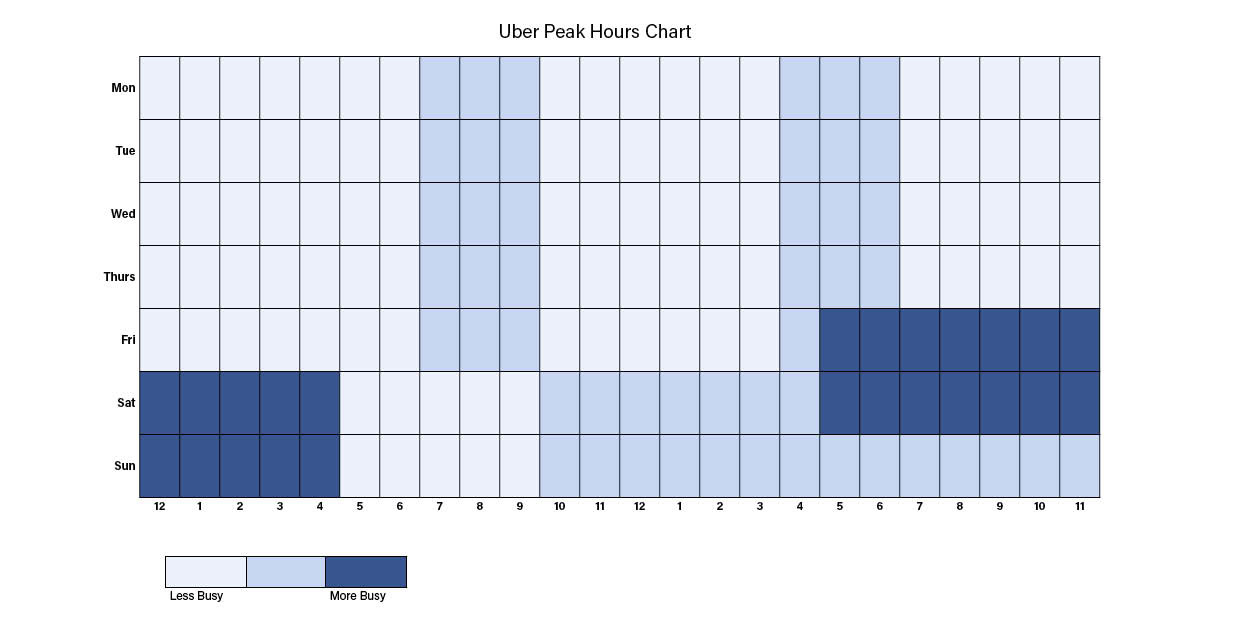 If you have the ability to wait, and drive during the best day of the week and during the rush hours, time can be your ally. The experience is key to success with the ever-evolving Uber algorithm, and that means knowing when to reach the most numbers of riders and make the most of your driving job .
As we analyzed the data, we found that for every city we analyzed, Saturday and Sundays are typically top days for many ride hailing companies. Generally you don't make as much driving Saturday morning as you do if you drive Saturday night, however you can benefit from the fewer number of drivers on the road.
According to our study, the on-demand activity rises during the weekend and it slows down on the week during lunch time. This means it can be harder to get rides when customers are busy in other activities.
On the other hand, the lowest number of rides that you may want to avoid occurred every day either before 7 a.m. or after 7 p.m.
These patterns can give you an indication of how riders are commonly using Uber and Lyft. However, we suggest you consult your driver app every morning for updates throughout the week, and log off a bit more during the lunch time and dinner time.
Remember that if you have time to spend on a side hustle, the most profitable during lunch time and dinner time is the food delivery.
In addition to the top popular times to drive above, Uber riders as a whole showed the most consistent use during bad weather, so these can be considered other "safe" times to drive.
Related Article: Is Driving for Uber Worth it?