Do I need Insurance for DoorDash
Doordash in a food delivery app. It allows customers to get fast food delivery, pizza delivery... The relationship between DoorDash and the Dashers independent contractors is regulated by the DoorDash Agreement. If you didn't read our complete guide to DoorDash driver requirements, here is a summary of the key requirements.
Summary of DoorDash Driver Requirements 2020:
Must be 18 years or older
Have access to a vehicle or bicycle (any car, truck, motorcycle, or scooter)
Own an iPhone or Android smartphone for the Dasher App
Valid insurance — name on policy
Provide a social security number (for a background check)
Pass a background and driving record check
Complete an orientation online or in person
So, DoorDash requires that every driver has a valid insurance with the name on the policy. At this point it is important to understand how DoorDash insurance works. DoorDash does provide general liability auto insurance in excess of your primary personal vehicle insurance. DoorDash insurance coverages are in effect from the time you accept a delivery request until the time the delivery has ended in the app.
Of course, while you are 'offline' or the Dasher app is off, your personal insurance company and coverages apply.In any case, DoorDash Insurance will not cover:
Damages sustained to your vehicle in a food delivery driver accident
Personal injuries and property damage such as bicycle/phone damage.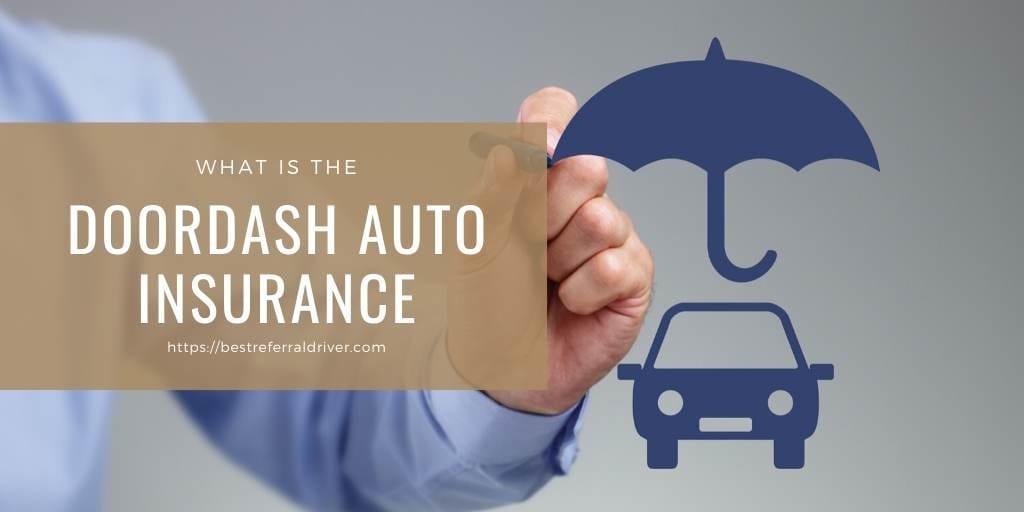 Can I use a personal car insurance policy to deliver food with DoorDash?
A common question is: What kind of car insurance do I need to work for DoorDash? DoorDash drivers are self-employed. If you use your vehicle to deliver, you should have a commercial auto.
The insurance companies require a 'food delivery insurance' or a 'rideshare insurance' if you drive for a ridesharing or delivery company, including:
Uber
Lyft
Amazon Flex
Grubhub
DoorDash
Instacart
Postmates
Uber Eats
Almost all personal car insurance policies contain a clause that specifically excludes the use of your vehicle for commercial activities. Driving for DoorDash is a commercial activity because you are using your car for business purposes. If you start a delivery driver job (whether part-time or as a side hustle) and don't tell your auto insurance company, you take some risks such as:
Losing your personal auto coverage
Falling into coverage gaps for accidents that occur while you're driving for the on-demand delivery app
Paying out of pocket for repairs, injuries, and more
Using your vehicle for commercial purposes you will invalidate your policy, even for personal use. The only way to be fully protected is to carry a commercial insurance policy which provides liability and physical damage protection for commercial vehicles that are used for business purposes. Our advice is to call your insurance agent before you start driving for DoorDash.
Doordash will not pay for the additional insurance cost. If you are looking for best courier insurance companies, the best thing to do is to compare courier insurance and contact your insurance company.
So, how much is courier car insurance? In general, pizza and food delivery insurance cost is determined based on a range of factors, such as vehicle type and claims history.
⚠️ Some auto insurance companies are responding to the COVID-19 pandemic by extending coverage to customers who are using their personal vehicles to make deliveries.