How Much Does HopskipDrive Cost?
So how much does HopSkipDrive cost? Rideshare for kids services are generally more expensive than those offered by Uber and Lyft. Prices for rides are dynamically calculated based on a variety of factors including route, time, time of day, types of rides (carpool or single family ride).
The average cost of a rideshare ride for a single family in San Francisco Bay Area is: $1.50/estimated mile + $0.50/actual min + $3.10 booking fee. $20 minimum fare. If you don't want to have surprises and want to know in advance how much your ride will cost, you can use the HopSkipDrive Fare Estimator.
Related Article: How much Does Uber Cost?
HopskipDrive Promo Code
Are you ready! First of all, create your HopSkipDriver account for your family. You will be able of booking the first ride for your children in a few easy steps. For a family, every opportunity to save money is an opportunity worth taking. If you're looking for a way to save some money, first of all you can use our HopskipDrive Promo Code.
Getting a free ride is a great opportunity for your family and a great opportunity to try the HopSkipDrive App. you can also consider the opportunity of carpooling. Carpool rides have more than one family, sharing a ride. Carpooling rides have a lot of advantages.
They are safe, convenient and fun. Children love to have someone to talk to during the ride. By sharing rides with others, you can save up to 60% on ride costs.
Keep in mind that you can't just add your kids' friends to the ride. All children riding in the carpool need the consent of their parents or guardian.
Related Article: HopskipDrive versus Zūm
Become a HopSkipDrive Driver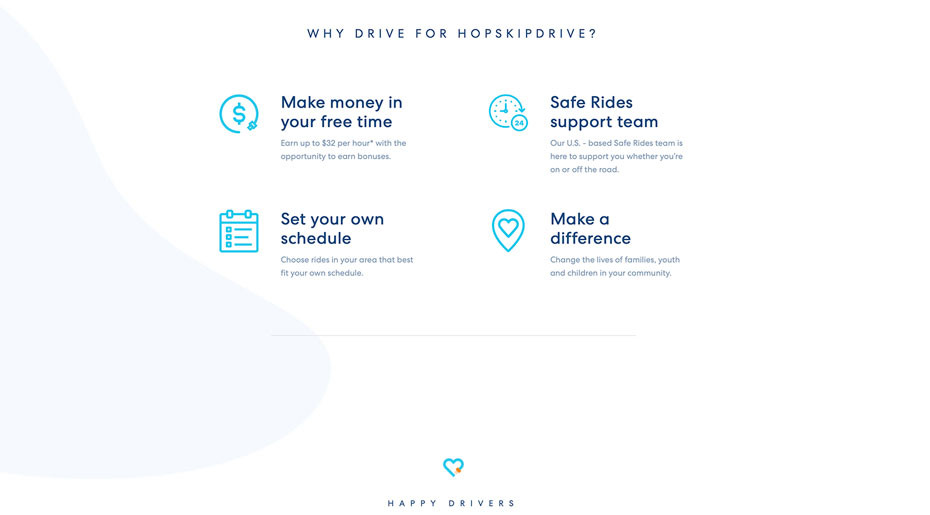 Do you like working with children? Are you looking for a Gig Job? Driving kids for HopSkipDrive and becoming a HopSkipDrive CareDriver is an easy way to earn money with a flexible schedule.
Gig workers have a lot of advantages. In particular as a Caredriver, you are an independent contractor able to choose the rides that fit to your personal schedule based on date/ time/ location.
According to Indeed, HopskipDrive's drivers earn $29.59 per hour, which is 102% above national average.
Like for Lyft,Uber or Postmates the onboarding process is quick and easy. The list of qualifications to become a HopskipDrive driver include:
You must be at least 23 years old
Own a smartphone iPhone or Android (for the driver app)
5 years caregiving experience
Pass a multi-agency background check, including fingerprinting
Own or lease a 4-door vehicle no more than 10 years old
You can check out the Hopskipdrive Career page to get job information for all the current openings.