Case Study: Case Study: Lyft vs Uber vs Postmates vs Doordash Background Check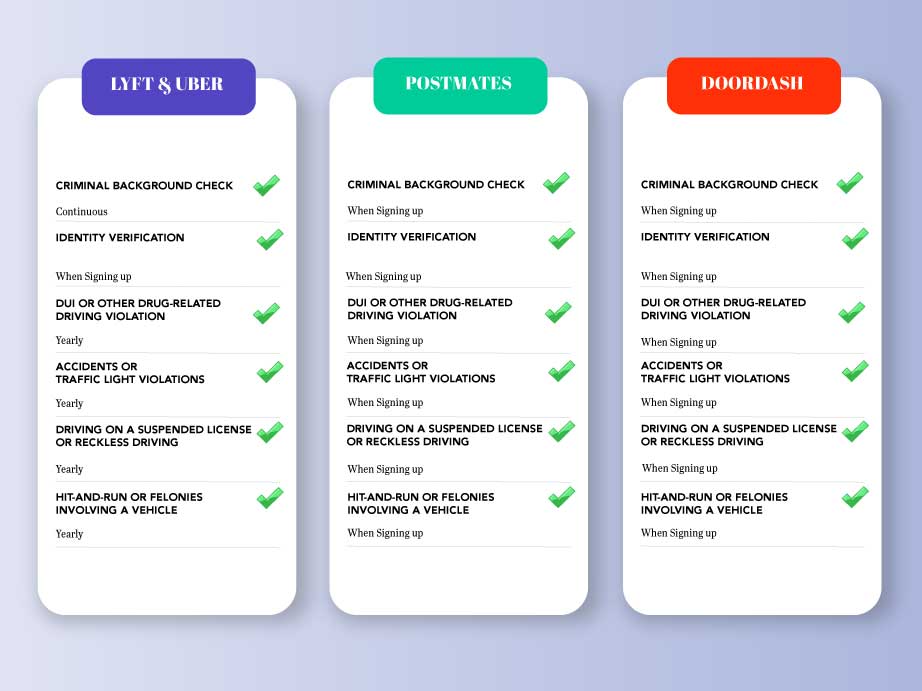 People are often curious and have many questions about these background checks. Safety is a top priority of all the companies of the gig economy and in particular the of the big players of ride sharing and delivery. Lyft, Uber, Postmates and Doordash ask for a background check before hiring.
We made a case study and compared Lyft, Uber, Postmates and DoorDash background check.
The Gig Economy provides a lot of jobs opportunities. It is important to consider all the differences between the Lyft, Uber, Postmates or Doordash screenings. All ridesharing and delivery drivers are independent contractors and have to undergo the background check, without any exception. The list of disqualification is pretty similar for all the companies:
No more than 3 minor violations in the past 3 years such as:

accidents
traffic light violations

No major violations in the past 3 years such as:

driving on a suspended license
reckless driving

No DUI or other drug-related driving violations in the past 7 years
No driving-related convictions in the past seven years such as:

hit-and-run
felonies involving a vehicle
So, what is the difference between Lyft, Uber, Postmates and Doordash background check? What makes the difference is the frequency and the intensity of the background check. Because the intensity of the background investigation depends on the security level required for the job, it is understandable that the ridesharing companies are more cautious.
In fact, both Uber and Lyft require all active drivers to pass a background check every 12 months. This is not the same for delivery companies like Postmates and Doordash for which screenings are made only once when signing up. You can take a look at our complete guide to Lyft background check and Uber background check .
Additionally to all the checks process, Lyft, Uber and Doordash use feedback and ratings system to protect the users, drivers and riders in their platforms. Postmates is the only company that officially ditched the 5 stars ratings system for a binary thumbs up or thumbs down. You can take a look at our guide to Postmates and Doordash ratings system.
Applying for for Postmates, or signing up for Doordash you will not avoid the background check, surely you undergo a lower intensity screenings than applying for Uber or Lyft.