Pay And Treatment Of Drivers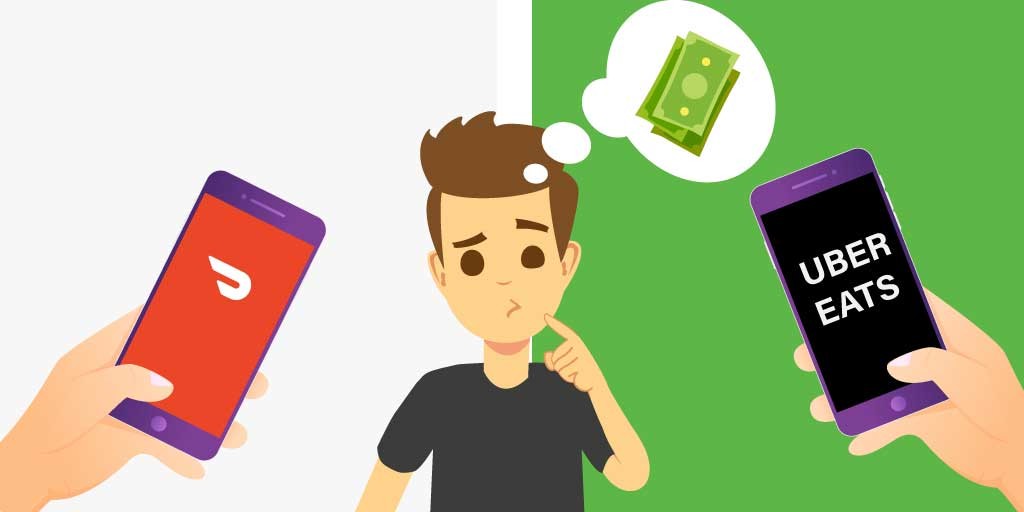 Getting paid to drive with door dash or uber eats is not that complicated. You must have a clean driving record, driving your car a valid auto insurance is required in addition to few other requirements. We suggest you take a look at our complete guide to Doordash driver requirements and UberEats car requirements.
Similar to Uber Eats with Doordash you set your own schedule and get paid the same day.
A clear sign of what makes a company or brand sincere or valuable is how they treat their employees and the delivery persons. This is why we compared Doordash vs UberEats for drivers.
In recent years we have seen how food delivery brands have raked up profits worth millions of dollars. But while these brands have grown their fortune, their employees didn't experience the same prosperity. As responsible consumers, we should support brands that not only provide lucrative deals but also pay their employees fair wages.
Delivering is one of our favorite side hustle. Both are apps that pay you to drive, while Doordash or Uber Eats are similar in many ways, one thing that differentiates them is the pay they give to their employees.
Uber Eats Vs Doordash Pay
So, what pays more Uber eats or Doordash? You drive for money! According to many estimates, the average hourly pay of an Uber Eats driver in the US is $12.25, while the average hourly pay of a Doordash delivery driver in the US is $14.07. You can clearly see that there is a difference of around $2 that does add up to quite a good amount over a period of a month, if you compare between Uber eats and Doordash.
To incentivize good performance, DoorDash has a reward point policy for its drivers and delivery agents. This reward point policy has led to increased productivity. Besides, initiatives like this give hardworking workers a chance to earn extra money through doordash delivery fees that they would not have received under normal working conditions. We suggest you consult our guide on how to make more with DoorDash.
While there has been a tipping scandal in the news in recent years, doordash has changed its tipping policy to align with their brand's image and for drivers' benefits. Read more about the doordash tipping policy here!
Is ubereats worth it? Many delivery partners who work with UberEats claim that their payment is inconsistent. They also claim that changes in uber eats service fees are modified frequently without the consultation of delivery agents. Recently, drivers working for UberEats protested in London. They were claiming that there was a significant reduction in the delivery rates that impacted their earnings.
According to the protesting drivers, no agreement was discussed between the gig workers and the company about these changes. Unfortunately, this was not the only time employees of UberEats have made their grievances known. There have been consistent protests against this food delivery giant because their employees were not getting fair treatment. These protests have seriously harmed the reputation of UberEats.
In the bid to offer cheap and great offers, big companies cut the wages of their employees or refuse to give them deserving bonuses. This is not just unethical but also falls into the category of fraudulent trade practices. We should support ethical businesses and put our money in brands that treat their workers with the same respect that we aspire to receive.