7. Instacart Shopper Pay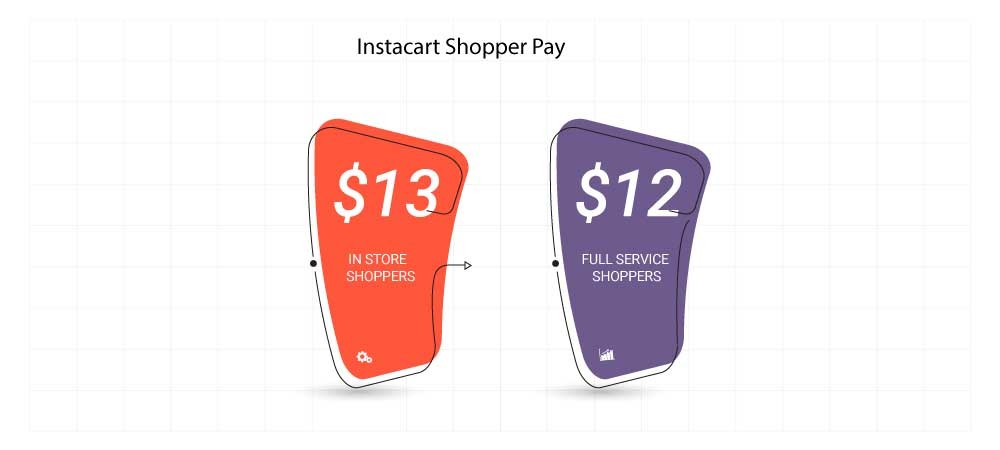 Instacart's payment structure varies depending on which city you're working in across the United States and the role you will choose.
Instacart Full Service Shopper Pay
As a Full Service Shopper delivery driver, you get paid for each batch you accept and successfully complete.
Before accepting a batch, you can preview the details and additional information including an earnings estimate and a map with the store and customer locations. At this point it is really important to understand how your earnings are calculated and the pay structure.
In 2018, after the tips controversy, Instacart publicly announced that it had redesigned its "shopper experience for more choice and clarity," adding that it aimed to "provide clearer and more consistent earnings."
Here is a breakdown of the full service shoppers pay:
Number of items

: The more items there are in an order, the more you'll be paid. This rate is usually around $0.40 per item and varies from city to city.

Per mile rate

: You get paid for the distance you drive between the store and drop-off locations. The per-mile rates vary by city and it is usually around $0.60 per mile driven x 10 miles = $6.00

Peak boosts:

These are incentives that Instacart offers to shoppers for working during peak hours, busy times and in busy locations. Bonuses become available when the demand for shoppers is high

Customer tips:

Providing friendly and fast service it is important. Shoppers get 100% of tips.
To understand what you'll be earning and whether or not driving for Instacart is worth it, there are some expenses you'll need to factor into your earnings.
Here are the expenses you'll need to consider as a Shopper:
Wear and tear of your car.
Insurance, and this isn't normal insurance.
Gas.
Finally, if your question is does Instacart take out taxes, the answer is no. You will pay taxes a little differently than employees do. As a self-employed individual, you are responsible for paying income taxes and self-employment taxes.
How much do Instacart in store shoppers make?
Here are the basic of the pay for in store shoppers:
You are paid hourly
You are not eligible for tips
You are allowed to work a maximum of 29hrs per week.
Finally, according to Glassdoor the Instacart in store shopper pay is an average hourly pay of $13.