Postmates drivers, it's the time to make more! We all work for money. Postmates is the right job that allows you to increase your earnings, but there is always the way to earn more money and get the best out of your Postmates driver job. Just follow a few small tips, and our advices on how to set up your Postmates Driver App and you will see that you will optimize your work by earning more.
#1 Maximize with Postmates Sign up Bonus
If becoming a Postmates driver is really easy, Postmates driver requirements are minimal and there are no complex vehicle requirements , you can also make deliveries by bike, signing for Postmates with a Postmates driver referral code gives you the opportunity to earn your bonus. This is the first step to maximize your earnings when you start your new job and you sign up for Postmates.
#2 Earn More: Work during the Peak Hours
As Postmates driver you can work with a flexible schedule, you can choose hours that work for you. Take time off, or work extra when it suits you, but the first important way to maximize your earnings is to 'go online' and work during the peak hours. If you follow this tip you will see your potential earnings grow. The Peak hours are:
Every Day:
Lunch Time: 11:00 AM - 1:00 PM

Dinner Time: 5:30 PM - 9:30 PM

Fridays, Saturdays, Sundays
#3 Postmates HotSpots
If you are interested in maximizing your payouts, it's helpful to understand how the hotspots work. In Postmates platform the hotspots are the busiest areas. Being near a hotspot while you're online may increase the number of dispatches you receive. So, if hotspots are suggestions places where you you are more likely to get delivery requests, will you earn more driving close to the hotspots?. Postmates hotspots are not a guarantee that you will receive an order and you will not receive a bonus for driving to or within a hot spot. At this point it is important to understand how postmates driver pay work. Postmates drivers have a per delivery pay. The most deliveries you do the most you will be paid. Learn where and when to drive is an important step on maximize your potential income. You can easily find the hotspots in the Postmates Fleet App when you 'go online'. Open the Fleet app and look for the areas of the map highlighted in dark red. Check the page of your city in our website or take a look at Google and Yelp to find the trendy restaurants in your city. We work for the community and we try to make your life easier writing the hotspots for each city. You can also email us if you know other hot spots in your city and like us you love to share with the community.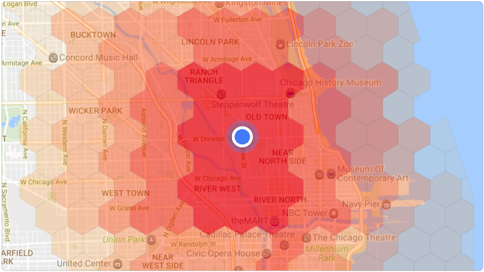 #4 Postmates Incentives and Perks
Postmates like Uber and Lyft offers incentives to their drivers to encourage them drive more especially when the number of orders exceeds the number of drivers. You need to take advantage of these opportunities. For this you can change some Postmates Driver App settings to be sure that you will be notified of all the incentives like he Blitz Notifications.
Blitz Incentives
Blitz incentives will help you to earn 3X more for delivery. Here for you a tutorial on how to turn on Blitz Notification.
Open your Postmates App
Tap on your picture
Click on Preferences
Set 'Push Notifications'
Postmates can also inform you in advance of incentives and offers by email. Do not forget to check your email related to your Postmates Driver Account.
#5 Auto Accept Orders
Auto accept orders will allow you to have no downtime and earn more through batching orders. While you've accepted your first delivery offer, Postmates App will be continuously looking for your next stop and will update your route in the background. Of course if you need a pause you can take it whenever you need, just turn off "New Orders" in your stops list in your Postmates App.