Why Is Car Insurance So Expensive?
At this point it is important to understand which factors help determine the cost of automobile insurance. There are several factors to consider (and they are not always obvious), trends in the industry, the make and model of your vehicle... Often, the factors that increase your premium are beyond your control; however, there are things you can actually control.
1. Age
The younger you are, the less driving experience you have, the higher your insurance premium is likely to be. In particular those under 25 present a greater risk and are considered more likely to fail to behave cautiously.
Young people, therefore, are forced to pay more than more experienced drivers. So, does car insurance go down at 25? Fortunately, this situation has a limited duration. Once you are 25 years old you are not considered a novice driver by insurance companies anymore.
2. Location
Your place of residence is the key factor to determine the price of an auto insurance policy.
It is statistically proven that in urban areas there is a higher rate of vandalism, theft and accidents. In addition, the traffic density is much lower in small towns and rural areas, and therefore the risk of an accident is also lower.
So, urban drivers pay a higher auto insurance premium than those in small towns or rural areas.
So, your ZIP code affects car insurance premiums. Drivers living in the most expensive ZIP codes like New York and California, for example, pay an average of about $3,000 more per year for full-coverage car insurance than drivers in the least expensive areas.
3. Marital Status
Your marital status is a rating factor used by car insurance companies to help determine how risky a driver you are. Married drivers pay lower rates. This is mainly explained by the fact that you are expected to be safer drivers if you are married.
So if you are looking for ways to make your insurance quote cheaper and you just got married, you should call your insurance agent.
Insurance quotes online show that on average premiums are 10 percent lower for married drivers.
4. You Have A Child On Your Insurance
Congratulations! Your daughter or son passed the driving test. This calls for a celebration. Bad news: your child must, of course, be insured, and insurers are particularly hard with "teens" drivers.
According to the U.S. Department of Transportation's Fatality Analysis Reporting System (FARS), eight percent of all drivers involved in fatal crashes in 2018 were 15 to 20 years old.
By adding your child, your policy increases your premium by an average of 120%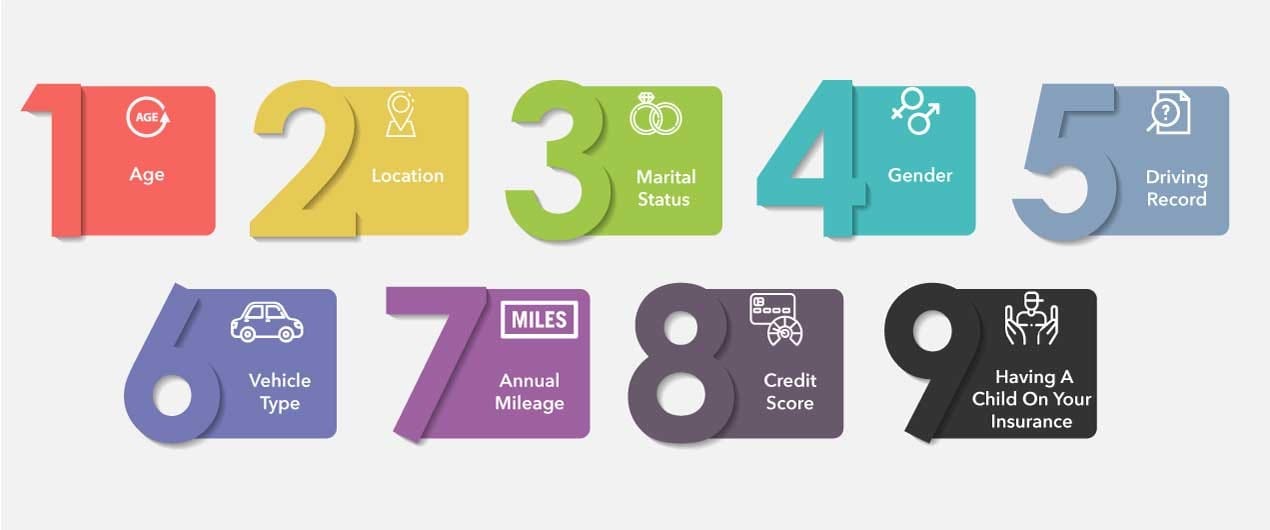 5. Gender
The frequency of claims varies considerably depending on the profile of the driver. Pitting male vs female insurance rates we can see that whether you're male or female affects car insurance rates. Unless you are a young driver, females will pay higher average premiums compared to males.
6. Driving Record
Your driving record has an impact on your car insurance. It is difficult to find cheap car insurance for bad driving records.
There are a lot of reasons to be a good driver. Having a perfect driving record may even help you find a job. The background check has become a part of the hiring process for many companies.
Rideshare and delivery drivers have to pass a screening process that includes DMV checks. The employers may choose not to hire a candidate if they don't pass the driving background check.
In addition if you drive safe and save and your driving record does not contain any offense, auto insurers will give you a discount.
As a result, the accumulation of offenses causes you to lose substantial discounts. So far, it's not very complicated! However, as soon as your driving record shows bad records, your auto insurer will automatically apply an additional cost to your insurance premium, because you become, according to their probability calculations, more at risk of making an insurance claim.
What is a clean driving record?
From an employment point of view, every company chooses the qualifications and you can take a look at our guides. While parking tickets don't affect your rate, all the insurers know a lot more about you and with extensive research will determine whether you can get cheap auto insurance or if you'll have to pay higher rates.
Basically you have a clean driving record when your driving history is free of any accidents or driving violations. Here's a quick breakdown of things to avoid in order to keep a clean driving record:
Mechanical Violations:

You are required to have certain equipment properly installed on a vehicle (i.e. no safety belts installed or malfunctioning equipment like a burned-out headlight)

Minor Moving Violations:

common minor violations include less serious speeding offenses, failing to stop at a stop sign or red light, failing to stay in lane, tailgating (i.e. following another vehicle too closely).

Serious Violations:

More serious moving violations include driving under the influence, reckless driving.

License and Insurance Violations:

such as driving with a revoked or suspended driver's license

Distracted Driving Violations:

Distracted driving can take many forms, from tending to a pet while driving to writing a quick text message.

Accidents:

After an accident at-fault the premiums can increase from 23% to 73% in year one.
7. Vehicle Type (type of vehicle, make, model, year, value, cost of repair, equipment, safety tests...)
Basically the insurance rates vary by car model. A vehicle with expensive parts is more expensive to insure. In addition, with the growth of new technology, cars are equipped with new safety features that in part increase your safety but directly impacts the cost of repairs, which influences the cost of the insurance.
So, is car insurance higher on newer cars?
As the cost of buying a new car is higher than buying a used vehicle, the same automatically applies to auto insurance. The amount will be higher for a new car because of the higher level of compensation required.
Do red cars cost more to insure?
A new Porsche is expensive to insure - but that has nothing to do with red paint.The color of the car you drive will never affect the price of auto insurance.
8. Use of Vehicle and Annual Mileage
The use you make of your car is another factor impacting the rate. Our favorite quote at Bestreferraldriver is nothing ventured, nothing gained. However in this case, the less you drive, the less risks of accidents you take and the less you will pay.
The insurance costs also vary according to the type of use of the vehicle, resulting in higher charges for those who use it for home-work journeys rather than just during leisure time. Moreover, the expense goes up if the vehicle is not parked in a garage but on a public road, because the risk of the vehicle being involved in an accident is greater.
If you use your vehicle for long commutes you should tell it to your insurer. It is not a good idea to ignore certain information. In fact, in the event of a claim, your omission can have an impact on the amount paid as a compensation. In some cases, you might not even be compensated at all.
9. Credit History
Your credit report is one of the factors that affect car insurance rates. In most States, insurers can use your credit score to determine your premium. A good credit report will allow you to get a fairer premium.
Using your credit history and rating is not legally authorized in the following states:
California
Hawaii
Massachusetts
Michigan