How Much to Tip Your Postmates Driver?
It's pretty much the same thing as tipping a server or your hairdresser, but something about tipping the delivery person feels uncomfy, mostly because we never know how much is the right amount.
So, how much to tip food delivery drivers? This can be a confusing situations, but keep reading and you will see that is not so complicated. If you are trying to figure out how much to tip your Postmate, there's no set amount.
While tips are absolutely encouraged, they aren't exactly mandatory. Tipping is a voluntary gesture of thanks. You will never get forced to tip on Postmates. In the United States, tips are not considered as an option but as a social expectation.
A standard 15 percent rate is a good starting point in the U.S. So, if your question is how much should I tip my Postmates delivery driver? there are some important point you need to know:
Postmates delivery drivers are independent contractors
Postmates couriers do not make an hourly minimum wage
For Postmates drivers, tips are a source of income
Postmates does not pay for gasoline and car maintenance.
Finally, our suggestion is to leave 20%tip to your Postmates courier. To calculate it, just move the decimal point in your pre tax bill, then double the number.
Do You Tip for Takeout?
A lot of people started to use the Postmates pick up service: when you place an order through the app and you go to the restaurant to collect it. There is no obligation to tip for a takeout order. However often people tip 10% especially if there is a tip box at the restaurant.
Postmates Tips: Frequently asked questions
Where do I See The Customer Tip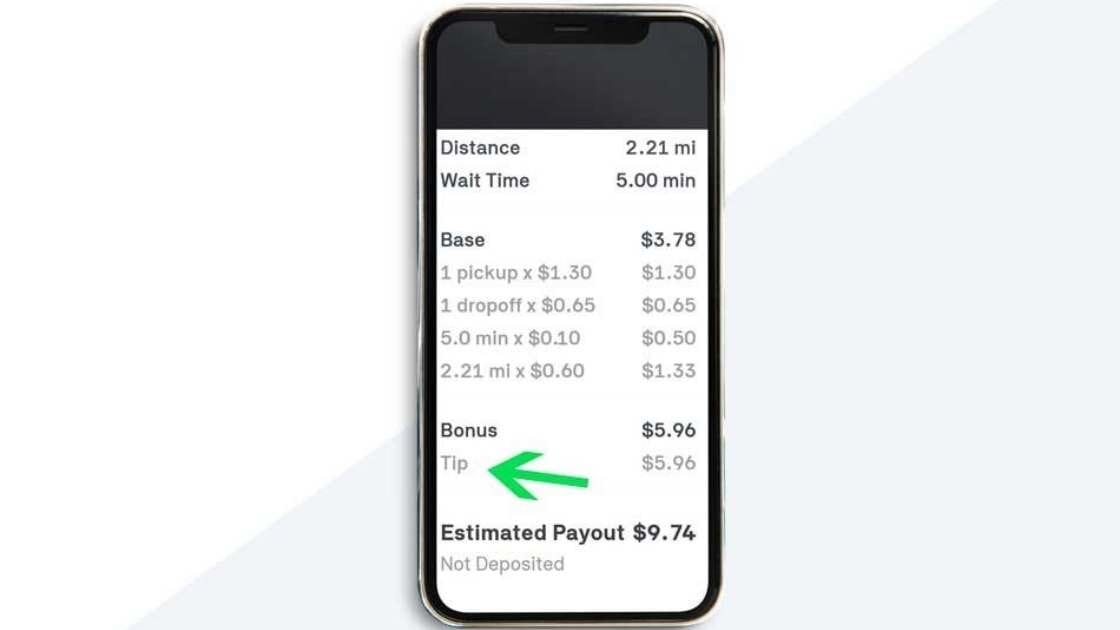 It is really easy to check your earnings including the tips with Postmates Fleet App. Follow our tutorial:
Open the Fleet App
Tap on your picture to open the main menu
Track your tips in the 'Deliveries' earnings tab of your Driver App
Tips will also show in your pay statement, and daily/weekly earning summaries.
Why are my tips not showing up?
If you didn't receive your tips and the order was marked complete in the app, probably Postmates is not working. Check out Downdetector.
What If The Postmates Driver Provides a Bad Service?
Whether you are in NYC or the Netherlands, you can have poor service with a delivery. In this case you still have the choice to tip or not tip. You can also report an issue with the order directly through the App or contact Postmates support.
How much of the tips goes to the Postmates delivery drivers?
Postmates delivery drivers receive 100% of the tips.
How tips work with my earnings?
A few months ago there was some confusion regarding the tipping policy of some delivery companies that included the tips in the guarantee a minimum payout for their drivers. You can take a look at our complete guide to How much do Postmates drivers make.
Postmates is one of the best tipping jobs. Tips belong to the driver and are automatically added to the total delivery earnings. Working during blitz pricing, staying close to the hot spots and delivering multiple orders are good opportunities to increase your tip amount. You will pay tax on gratuity.
Can I use a Postmates gift card to tip the driver?
If you received a Postmates gift card, you can use the amount available in your balance for tips.
Next Time, Tip For Food Delivery
Give a tip is a good way to say thanks it never hurts to show a little extra love (and $$$) and it is easy to do with the App or in cash. If are new to Postmates you and save the money of the delivery fees can use our Postmates $100 Free Delivery Code. If you are a gig worker, providing excellent customer service is a great way to earn more. Finally, Postmates does not use a star rating system and gives all the tips to the drivers.