Become a Favor Delivery Driver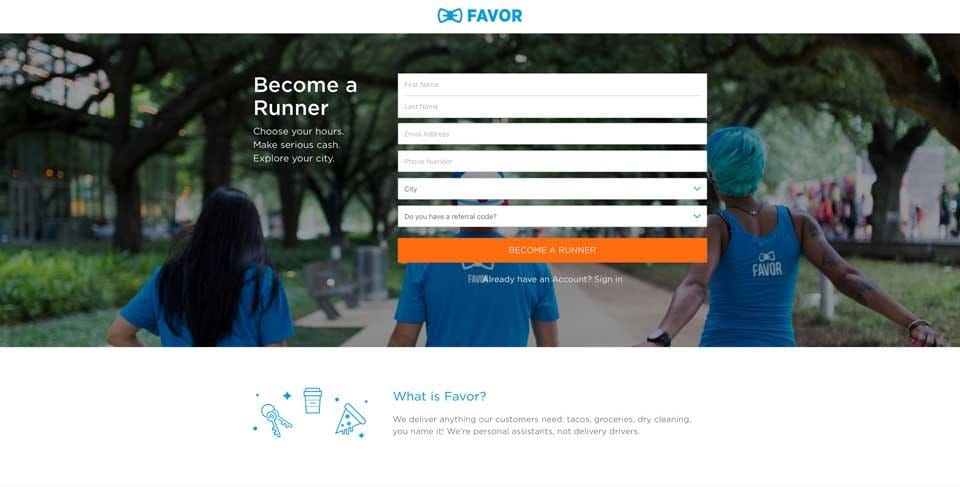 Favor is looking for delivery drivers. If you are looking for a flexible job, driving for Favor is an opportunity to make money working part-time or full time.
Favor delivery drivers are called Runners. The company likes to consider them more like personal assistants that offer personal service rather than delivery drivers. They're contractors who use their vehicles to make deliveries. It works much like Uber or Lyft, but for food (like Uber Eats).
Experience is not required, but if you have previous experience with food, or courier service industries, that's a plus.
Favor welcome drivers and bikers from other gig economy services such as UberEats, Postmates, Lyft, Caviar, GrubHub, AmazonFresh, Instacart, Waitr, and Bite Squad.
If you meet the following requirements, you can apply for a position as a delivery driver. Favor application is online and free.
Favor requirements specify that delivery drivers:
Are 18 years or older (must be 21 to deliver alcohol)
Have valid Driver's License
Have a valid Auto Insurance
You must pass a criminal and motor vehicle background check
Have clean Driving Record
Must own a Smartphone - iphone or android for the Favor driver app
Must have a Reliable Vehicle (car, bike, scooter)
Similar to DoorDash insurance, if you drive your car, you have to upgrade your insurance. You will be insured in case of accidents and the company will not be responsible for your behavior on the street.