3. Be Creatives
Do you think you have to be an artist to be creative? You can also be creative in a non-creative job like a lyft driver. Being more creative you will see your productivity increase and you will find new ways to make more money.
A common question is who pays more uber or lyft. Our answer is: Drive for Uber and Lyft at the same time and choose the best paying driving app. The application process to become a Uber or Lyft driver is free.
From all the Lyft driver secrets and rideshare strategies this is another that will help you make sure that you're successful. Did you know, for example, that you can login in your Lyft rider App to check if there are too many drivers around you? If you're not receiving trip requests it can be a problem of the Lyft driver App, or probably you are in an area with too many drivers.
Working for Uber and Lyft is one of the tips to make more money.
4. Lyft Incentives and Perks
You probably already signed up with a Lyft driver referral code. To help drivers make extra money, Lyft streak bonuses to rideshare drivers during the rush hours. They also offer incentives to ensure they have the right balance of drivers on the road based on the number of customers looking for rides.
Each city team determines the exact times and locations for incentives. The most common Lyft promotion for drivers are:
5. Do not Follow the Crowd
We truly believe that humans are smarter than computers. Do not always follow the crowd. You know your city, you will find by yourself the hotspots and all the places where not to drive to avoid the traffic.
6. Use a Good GPS
Of course Lyft App has an navigation system built with Google Maps. I'm a rideshare and delivery driver. I learned new things through experience. First of all: avoid driving in traffic, not only because it is really a nightmare, you waste time and gas, but also because it isn't worth it.
Lyft drivers are paid by the mile and not by the minute. Lyft and Uber drivers make less money in traffic. If you live in a big city where the traffic is horribly bad like Los Ageles, San Francisco or Chicago..., avoid traffic using Waze App. Take a look at our comparison Waze vs Google Maps
7. Track your Mileage
So, how to save money on lyft? Lyft drivers have to set aside money to pay taxes, but on the other hand you have access to a series of advantages that only independent contractors have. Business mileage is one of those business tax deductions that will help earn money while driving.
Take a look at this article and learn how to track your miles.
8. Reduce Your Gas Expenses
This is one of the side hustle where you will spend a lot of time on the road. Whether you are working part time or full time, Lyft does not pay for gas. However you can maximize your Lyft profit finding cheap gas. You can use GetUpside App, one of the best gas cash back apps.
Some Apps will help you find cheap gas including:
GASBUDDY
The GasBuddy Appp is free. You can find the best gas prices making a search by city in GasBuddy.com or download the app on:
The app incentivizes people to post gas prices by offering a weekly drawing for a $100 gas card. GasBuddy gives users points every time they post prices. They need to report about six or seven gas prices to be eligible for the drawing.
GasBuddy gives you the opportunity to save more money with Pay with GasBuddy card.
GAS GURU
Gas Guru finds the cheapest station near you. It's usually not far. It doesn't always have the price exactly right, but it's close enough. You can also share your savings with friends on Facebook
Recently the developers add a new feature to filter by gas station brands. So if you prefer going to a certain gas station brand, head over to the Filters tab and select one under Gas Brands.
Gas Guru is available on:
Waze
We are used to know Waze as a community edited app that shows us the best route, real-time traffic and road info. But did you know that Waze also indicates the petrol stations with the respective price?
Waze helps you save on gas, every time you fill up. Navigate to the cheapest station on your route, all powered by community-shared gas prices. By working together to report prices at the pump, Waze drivers can always save some gas money.
Waze is available on: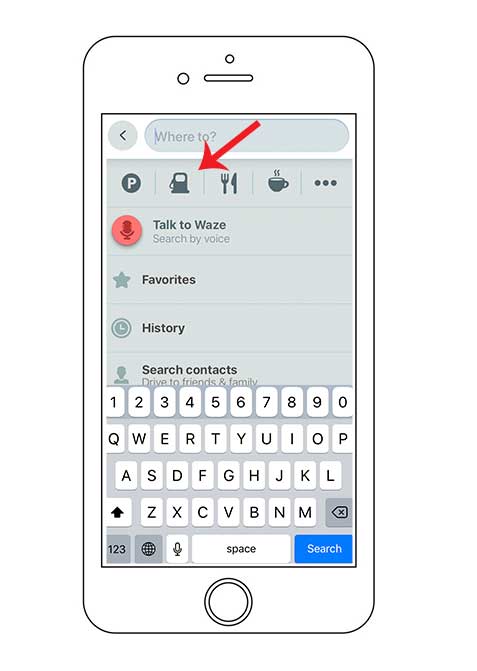 Dash.by
The app is free but it works with a sensor. You need to buy this sensor. The device starts as low as $10. The sensor connects any car model made in 1996 or after.
Dash.by app is available on:
Dash.by App Review
You can also watch this interesting App Review made by SomeGadgetGuy:
9. Make a Regular Preventive Maintenance in your Car
Drive safely and take care of your car. I know, everyday life can be very stressful and demanding, but these small things will help you make your car more efficient, keep it in good conditions, delay big maintenance and then save money. Protect your investment and make it as safe as possible. Keeping your car in good condition can be as simple as checking fluids or tire pressure.
Here is a checklist of everything you can do to extend the life of your car
Monitor the thickness of the brake pads and do not let them consume up to the metal: This would cause damage to the brake discs if not to the jaws. Replacing the discs and the jaws is much more expensive than replacing the pads. Nothing is better than cleaning the pad while it is still in the car. The friction between the pad and the disc will eliminate any external substance almost immediately.
Change the tires on rotation: Changing the position of the tires is very important and reduces the irregularities and lacerations on the tread, extending the life of the tire. The recommended rotation cycle is a change twice a year or every 6,000 miles. Rotate diagonally, the front right with the left rear and the front left with the right rear. However, this model may change depending on the vehicle transmission and the type of tires. Your manual will contain information about it. Remember that some tires (especially sports cars) are directional, that is, they rotate in one direction. They usually have a big arrow on the side to indicate it.
Keep tire pressure: Poorly inflated tires reduce tire life by 15% and increase fuel consumption by 10%. Inflating tires is probably the simplest operation, and many stores sell very cheap manometers. Controlling the pressure every time you make petrol will reduce tire wear and prevent these problems. Monitor the tread with a coin. Insert the coin under the tread. If you can see the whole character's head on the coin, then it will be necessary to change the tires.
Wash your car: salt on roads, sewage debris and pollution can cause structural problems that require expensive work. Without regular cleaning, you can start to notice the rust on the bottom of the doors after four years.
10. Take Care of Yourself and Your Passengers
Suggestions and recommendations are meant to help you earn extra cash driving. Be nice and polite with the passengers, they can tip you at the end of the ride. Lyft has an in-app tipping option. It's really easy for the customer to give some tips to their driver.
So, how to get more tips with Lyft? You can for example help with luggages.
In addition, take care of yourself before you take care of others. And here are some tips to help you do it.
Eat and drink well. Always carry a bottle of water and some snacks in your car. A musli bar or an apple can go a long way when you're on the run and waiting for a proper break to have lunch or for the day to end to have dinner. Hydrate yourself or your body won't have anything to work with. You need water in order to use you brain effectively.
Schedule recharge time. If you are online driving for Lyft
Get enough sleep! This is so underestimated and yet so important. Without sleep your body and brain get no chance to recover or regenerate new cells in your body to keep it strong and healthy.
Set a weekly goal in the driver app that helps you to achieve your earnings goals.