How much does Postmates cost?
The price of each order will include the cost of the merchandise + the Postmates fees + any applicable taxes. Postmates fees include:
Postmates Delivery Fees:

$0.99–$3.99 for Partner Merchants
$5.99–$9.99 for all other merchants

Postmates Service Fee:

It is a variable percentage-based fee applied to the purchase price of your items. The amount of Postmates service fees is around 12%

Tipping (Optional):

You can use the Postmates app to tip your driver after the delivery is over
Very similar to Uber Eats small fees, Postmates apply a small cart fee of $1.99. The minimum is $12. An exception is the city of Los Angeles where the minimum is $10. In LA the small fee will apply to your cart if your order is under $10.
There is good news that every Postmates user should know. First of all you'll always be able to verify and review your order on the checkout screen before requesting the delivery. Second, Postmates has developed a system that will help you save money.
Have you already taken an Uber Pool for example? You saw how convenient it is! With Postmates, you can share a courier with a nearby order from popular restaurants and get free delivery. If you want to read more, you can take a look at this complete guide to Postmates Party .
Postmates Unlimited
Is Postmates expensive? If you are a regular Postmates user, you can sign up for a subscription plan that will allow you to save money. Postmates Unlimited will give you $0 delivery fee on your order over $15. A monthly subscription will cost $9.99 per month and a yearly subscription costs $95.88 per year.
Working for Postmates
Postmates is also a side hustle opportunity to make money during your free time. The coronavirus pandemic boosted delivery jobs and Postmates is hiring!. We suggest you consult our guides to become a Postmates driver, vehicle requirements and sign up bonus.
So, if you are looking for a way to earn extra money, Postmates offers you the possibility to join the Fleet and work when it is more convenient for you. Flexibility is the first great advantage of gig delivery jobs.
Postmates couriers are independent contractors, they will not receive a salary, they are paid per delivery. how does postmates work as a driver is not that complicated. Here is a job review:
You accept delivery requests with the Fleet app .
You Pick up and drop off the orders to the customer's location
Sometimes you have to pay the order at the restaurant with a prepaid card.
Delivering for Postmates is a great way to earn extra money. Postmates drivers get paid on a weekly basis, and get paid an accumulation of their delivery earnings from the previous week. They have the option to cash out the earnings with Postmates instant pay and get paid daily. The good news is that there is no limit of the number of the time you can use instant payout.
So, how much do Postmates drivers make? According to Indeed.com the average hourly pay for a Postmates delivery driver is $25 per hour. That is an impressive 58% above the national average.
Postmates is focused on growth and offers huge sign up bonuses to new drivers. To claim your referral bonus you need to sign up for Postmates with a valid driver referral code. Take a look at our tutorial on Postmates application process, so you won't miss your bonus.
How much do you make with postmates depends on the amount of time you spend online making deliveries. Postmates offers bonuses and incentives to drivers, To learn how to get more orders on Postmates, the best times for postmates,and how to be a good postmate, we suggest you to take a look at our guide with 13 tips and tricks that will help you to make more money.
Normally, tips and earnings per delivery are higher if you drive for Postmates compared to other delivery companies. Check out our complete guide to Postmates driver pay.
Want to sign up for Postmates? Sign up and apply for Postmates .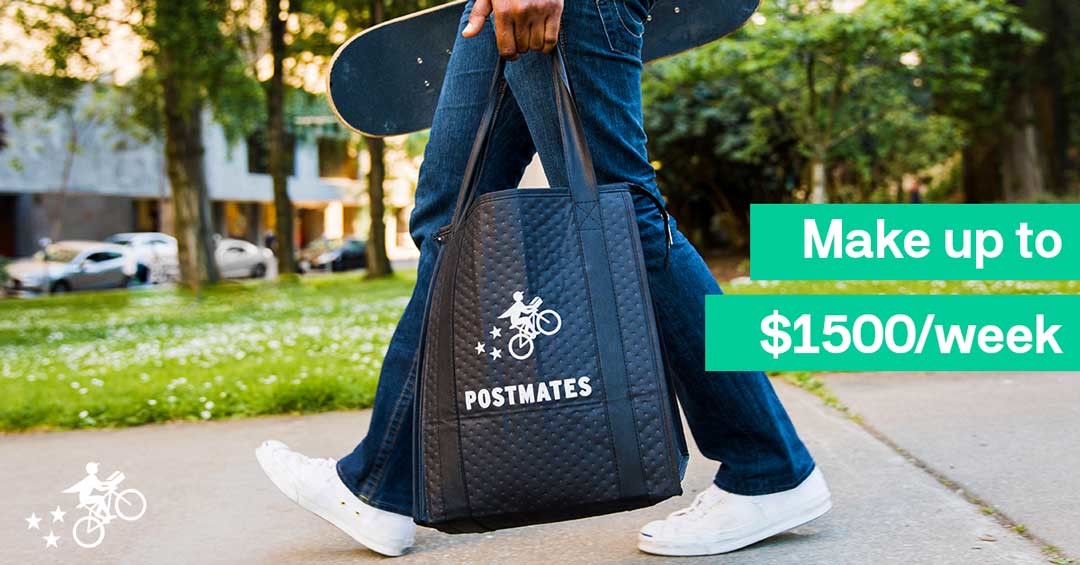 The requirements to get started
Here is a list of Postmates driver requirements.
You need to be at least 18 years old
Driver must own a smartphone (iPhone or Android) for the Postmates Fleet App
You need a vehicle
Valid driver's license and car insurance (if you choose car as vehicle option)
Social Security Number for the background check . La list of qualifications includes no major violations within the past 7 years.
You can take a look at our guide to become Postmates driver, once you have verified and you meet all the requirements, you will be ready to drive for Postmates and make extra cash!
What's the Rating System for Drivers
Is it Postmates the best delivery service to work for? In our Postmates review we want to focus on a very important point, unfortunately little discussed. It is not just a matter of understanding what are the requirements to become a delivery driver, but above all to understand the philosophy of the company.
Postmates is a driver friendly company. In fact Postmates does not use a star rating system. Customers rate their delivery as a whole with a thumbs up or thumbs down.
Postmates drivers do not drive with the fear of bad and unfair ratings. Finally, Postmates ratings system will help you avoid being held responsible for circumstances outside of your control. So, if you are looking for a side job that will help you boost your income, you should also consider how a company treats their drivers. You are free to choose ;) Take a look at our complete guide to Postmates and DoorDash ratings.
Related Articles: Postmates vs Ubereats, Postmates vs DoorDash, Postmates vs Caviar