How Do Doordash Driver Ratings Work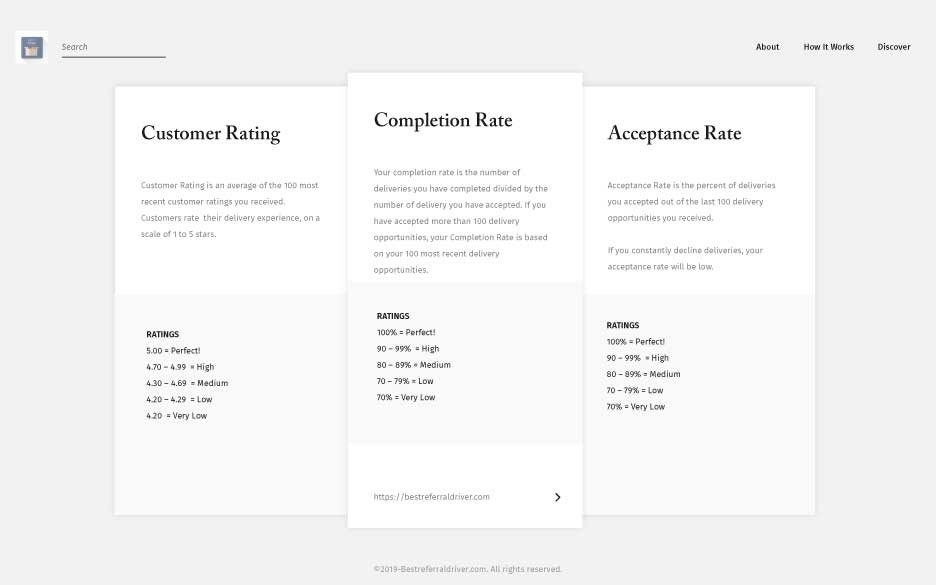 Doordash is a 5 star food rating app. This means that users rate their driver and can provide feedback after every delivery. Door dash calculates your driver score as the average rating you've received for your last 100 rated deliveries. The algorithm of the Doordash app is based on 5 star and it is a combination of the following elements:
Orders Never Arrived
Customer Rating
Acceptance Rate
Completion Rate
On time or early
Customer Rating
Doordash customers are able to leave feedback on their delivery driver and the restaurant. The Doordash customer rating scale is measured on a five-point score (with 1 being "very dissatisfied" and 5 representing "very satisfied).
Reviews on Doordash provide valuable information about your delivery driver job.
If you are a Doordash customer, you should know that drivers are independent contractors, the success of their job depends on a good rating. If their dash score falls below a certain number they get kicked out .
Doordash Acceptance Rate
What does acceptance rate mean? The Acceptance rate for Doordash is the percent of deliveries you accepted. It is based on your 100 most recent delivery opportunities. The food delivery company uses it to determine driver eligibility for certain features. Is a low acceptance rate good? You do not need to have a 100 percent acceptance rate, you only need to know what happens if you have a low acceptance rate.
The good news is that DoorDash cannot deactivate you for a low acceptance rate. When your acceptance rate goes below 50% you will get an alert message suggesting you to accept more deliveries and improve it.
Does Doordash acceptance rate matter?
Yep! With an acceptance rate under 70% you are not eligible for the 'top dasher' status.
Related Aricle: Doordash Deactivation
💡 PRO TIPS FOR IMPROVING YOUR ACCEPTANCE RATE
To ensure you can readily accept delivery requests and maintain a high acceptance rate, you can:
Turn up the volume on your phone so you can always hear the new request sounds
Press the accept button as soon as you see the request come through
Doordash Completion Rate

Once you sign up for Doordash you agree to the terms and conditions outlined by the Dasher agreement. Additional terms may apply but basically you CONTRACTOR agrees to maintain both a customer rating and a completion rate.
A completion rate refers to the number of completed deliveries divided by the number of deliveries accepted. Both the Postmates Fleet App and the Dasher App give drivers the option to cancel an accepted order.
This practice is not much appreciated neither by Postmates nor by Doordash because it causes poor experience for both customers and the company.
Remember that to avoid a bad experience or a bad rate in the case of Doordash, you have to use this feature only if you absolutely need to. Postmates and Doordash drivers are contractors very similar to others delivery drivers (Favor, Waitr and GoPuff). You can go offline whenever you want.
DoorDash On Time
Doordash has an 'on time requirements' based on Google Maps' estimate. A lot of drivers stress about this for justified reasons:
The merchant can make you late
You can be stuck in traffic
DoorDash Scheduled Deliveries
DoorDash Driver App allows drivers to sign up for deliveries. So, DoorDash drivers have access to strategic scheduling. Scheduling yourself for a DoorDash shift is a great opportunity to receive more orders and potentially higher earnings. We suggest you to take a look at our guide to maximize DoorDash earnings.
Things to know
The schedule is available on a first come, first served basis
This is the worst part, Dashers with a star rating below 4.4 loose the early access to scheduling
Doordash has the ability to deactivate accounts based on customers rating.