How to Set up Your Bank Account To Get Paid
On August 2019 Doordash announced that it has acquired Caviar from Square. Square is a mobile payment company. They brought their innovation in terms of payment into the Caviar Courier App. For Caviar to transfer your driver earnings you have two options:
Your Bank Account (weekly payment)
Use the Cash App (Instant Pay)
1. How to Submit Your Bank Information to Caviar
you must enter your bank account in the Driver Dashboard. Always keep this info updated so your deposits transfer without delay. You can use the menu 'Manage Account' of your courier App. If possible, it may be easier to use a computer instead of a phone to update this info. Caviar transfer earnings to checking accounts weekly. Before you begin, you'll need:
Your bank's Routing number. A routing number is the first set of nine-digit bank numbers on a check located in the bottom left corner of personal checks (If you don't have any checks, you can find it in your bank statement or call your bank).
Your Account Number. Your account number (usually 10-12 digits) is specific to your personal account. It's the second set of numbers printed on the bottom of your checks, just to the right of the bank routing number.
Get started
Log in to the Driver Dashboard
Click on 'Payout Information'
Enter your routing and account numbers in the appropriate boxes
Click 'Submit'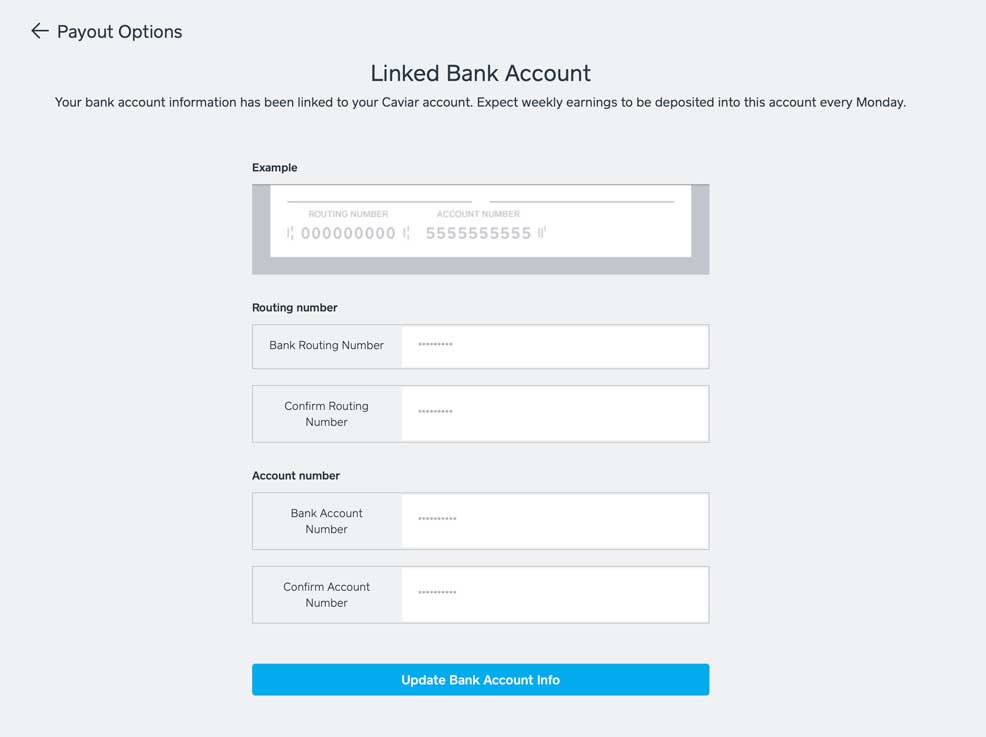 2. How to Set up Caviar Cash App
Unlike Postmates Fleet App, with Caviar Courier App you have to choose your preferred payout method. If you choose Cash App you will not have the ability to be paid on a weekly basis. Of course, you can always switch back to traditional bank payout and add your bank account. The big advantage of Cash App is that you you get paid immediately after completing an order.