How Long Does a Postmates Background Check Take?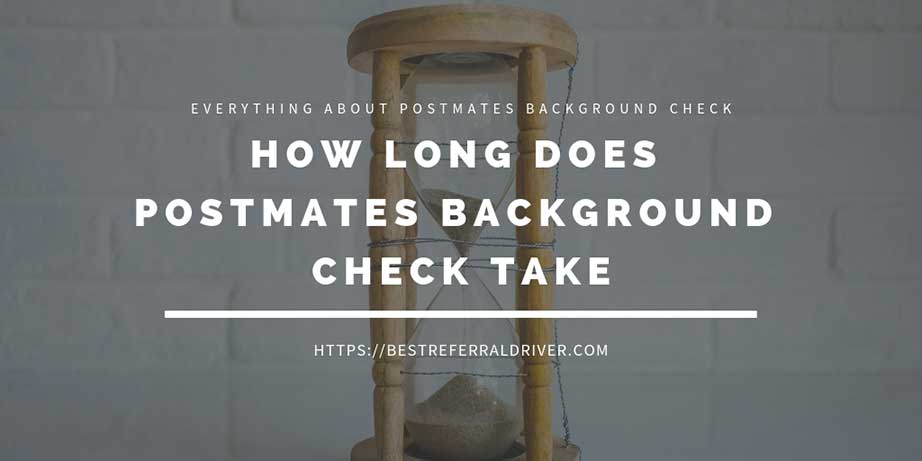 If there's a question that people are more curious about, this is: How long will the background check take?
Postmates says typically it takes around 3–10 days. We use our experience to answer to this question and we say that that time frame may vary and that how long does the background check take it depends on many factors. Some aspects of the background check process can take longer, depending on individual circumstances.
Postmates want to be sure that you will be a safe delivery driver. We remind you that with the background check multiple aspects will be examined including:
Criminal checks
Motor vehicle records
How long does a criminal background check take?
The timeframe varies significantly depending on the city where you sign up to be a Postmates driver. Complete a criminal background check can take 2 or 10 business days depending on the amount of transgressions on record. For the moment, know that there are about 3,000 counties in the United States, and there is no centralized database of criminal records.
How long does a motor vehicle check take?
It depends a lot on in what state you're searching — it could be a few days or sometimes it can take up to a week.
Postmates Background Check taking a long time
Your Postmates Background check is still pending? If there's any way to speed up the background check process, there's something you can do to prevent your Background check from taking longer:
When you sign up for Postmates fill out the forms correctly
Do not give a nickname or a shortened version of your name on Postmates application.
Postmates uses a third company to perform the background check, but if you have a dubt and you think your Postmates background check is taking long time you can at every moment contact Postmates Support.
How Can I Verify The Postmates Background Check Status
Before to Pass your background check you had to sign up for Postmates and create a driver account. The only way to check the status of your background check is through your fleet account. Remember that if you are not yet approved your "Background check is in status pending" and you cannot download Postmates Fleet app since you are not yet an official Postmates driver. Once you your application is approved you'll be able to download the Fleet app. You'll also receive instructions on how to set up your Postmates driver account.
When will I be able to start to work for Postmates?
At the end of your background check you'll receive a copy of your background report. Remember that Postmates reserves the right to disqualify an applicant at any time should either their driving record or background check reveal any violations or criminal offenses... or for any other safety-related reason.
Postmates Background check is the penultimate step of the application process to become a Postmates driver. Once the background check is over, you will receive the welcoming kit with the prepaid card (beware this may take sometimes more than two weeks) You can look at our step by step Application Process Tutorial. Now you can now download Postmates Fleet App, go online and start earn money.