What Does a Postmates Driver Do?
Postmates is a delivery app that lets you order almost anything — including restaurant meals, groceries, and personal items — It allows anyone to become an on-demand delivery driver.
Customers place their order with the Postmates app: They can pay their order through the app. Sometimes you have to pay with a special Postmates Prepaid Card. You will receive it for free by mail with your insulated bag.
You will pick up deliveries and then drop them off directly to customers. The delivery area you'll be working in is around 15 miles
Postmates Driver Salaries
Postmates recently began an incentive program that guarantees you will make a specified amount of money. Postmates has increased the amount of money you can make in comparison to their competitors.
You always get 100% of gratuity! Postmates has an In-App Tipping Option. The app calculates a recommended 20% tip based on the total price—which includes your order subtotal, an operational service fee, and a delivery fee. However, users are free to tip any amount they choose. Check our complete guide on Postmates driver pay
Steps to becoming a Postmates Driver
Become a Postmates driver it's easy. Formal education is not required to work as a Postmates driver
1
Meet minimum driver requirements
You must be 18 years or older

Own a smartphone (iPhone or Android)

Driver's license

Provide a social security number (for a background check)
2
Have access to a vehicle or even walk, depending on the market
Checklist of Vehicles Elegible for Postmates
on a bicycle

a scooter

a car ( There is no vehicle inspection)

a truck

or have a good pair of snickers! (depending on the market).

You can change your vehicle type right from the app any time.
3
Pass a background and driving record check
What does the background check cover?
Postmates uses a company called Checkr Inc. to run a background and driving record check. The background check covers criminal background history and if you sign up to use a car or a motorcycle, they also check your Motor Vehicles Record
Your report lists information will include details such as:
Violent Crimes
Sexual Offenses
Theft
Property Damage
Felonies
How long does postmates background check take?
The background check typically takes around 3–10 days. Postmates says it should take 1-3 days, but that time frame may vary
When will I be able to start to work?
Postmates Background check is the penultimate step of the application process to become a Postmates driver. Once the background check is over, you will receive the welcoming kit with the prepaid card (beware this may take sometimes more than two weeks)
What is the Postmates driver application process like?
The Postmates driver application process will take you a few minutes. During the sign up process, you will need to provide information about yourself:
name
phone number
market
mode of transportation
current mailing address for your Welcome Kit
social security number (for your background check)
date of birth
After filling out this information during the sign up process you need to upload a selfie. You'll receive by mail your Postmates Prepaid Card and hot/cold bag (you don't need to buy it). As soon as it arrives, please link your Postmates Prepaid Card to your account at fleet.postmates.com/settings. Once you link your card, the final part of the process is kicked off, you can download the fleet App and start to drive.
You can look at our instructions and step by step application process...It's easy!
Orientation
Do I need to join an orientation to get started?
Unlike Doordash, the onboarding process to become a Postmates driver is only online and does not provide an orientation
Postmates Insurance
Does Postmates have insurance?
Yes, but the insurance coverage for Postmates drivers is minimal. You can check with a rideshare insurance agent to be sure you are correctly insured.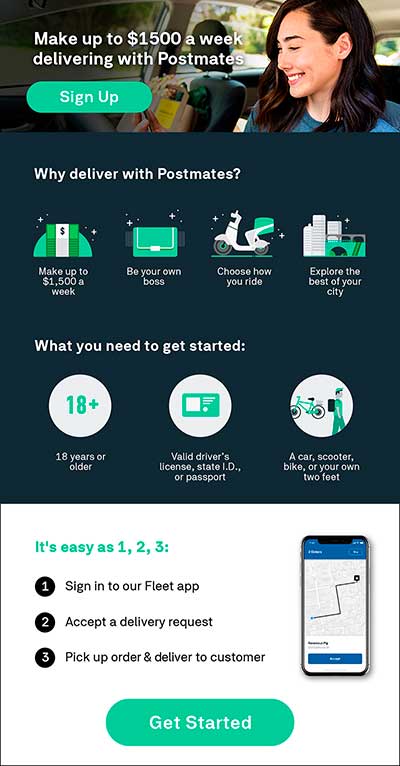 Conclusion
If you enjoy getting out on the open road, be your own boss, signing up for Postmates could be perfect for you. Moreover, you only need to meet some simple requirements, to apply and work with Postmates and you don't need experience.
Postmates' Sign up bonus for new driver is one more reason to apply.
To participate in Postmates new driver promotion when you apply don't forget our referral driver promo code: FL- eleonorap .
It will give you the best sign on bonus in your area. Follow the step by step tutorial