Where is Uber Available? The Comprehensive List of the Uber Locations in The United States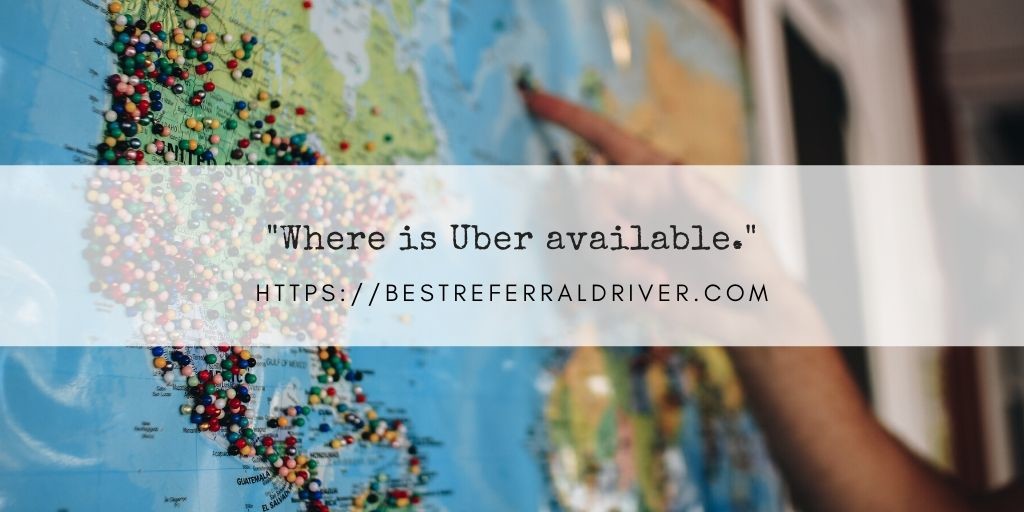 Uber is an American technology company. The San Francisco-based company now operates its on-demand rideshare platform, powered by a network of local gig economy workers (Uber drvers), in 4,000 cities across all 50 states. Uber also operates in many international markets including Italy, France, Canada.....
The company also competes for the food-delivery with Doordash and GrubHub.
With an Uber account, you can request a ride in any city where Uber operates 24-7-365. In all these cities where Uber is available, Uber run a promo driver. Do not waste your time, search for yours and get your Uber sign up bonus. Uber new driver bonus is up to $1000.
Uber Available Cities of U.S.A
Abilene

Akron

Albuquerque

Amarillo

Ames

Anchorage

Ann Arbor

Asheville, NC

Athens

Atlanta

Augusta

Austin

Bakersfield

Baltimore-Maryland

Baton Rouge

Beaumont

Bellingham

Big Island

Billings

Birmingham, AL

Bismarck

Bloomington, IN

Boise

Boone

Boston

Bowling Green, KY

Bozeman

Calgary

Campeche

Cancun

Carbondale

Cedar Rapids

Celaya

Central Atlantic Coast, FL

Central Oregon

Champaign

Charleston, SC

Charlotte

Charlottesville-Harrisonburg

Chattanooga

Chicago

Chihuahua

Cincinnati

Ciudad Juarez

Ciudad Obrego

Cleveland

Coastal Georgia

Coeur D'Alene

College Station

Colorado Springs

Columbia, MO

Columbia, SC

Columbus

Columbus, GA

Connecticut

Cookeville

Corpus Christi

Cuernavaca

Culiacan

Dallas-Fort Worth

Dayton

Delaware

Denver

Des Moines

Detroit

DuBois

Dubuque

Duluth

Eagle Pass

Eastern Idaho

Eastern North Carolina

Eastern Shore

Eastern Washington

Eastern WV

Eau Claire

Edmonton

El Paso

Erie

Evansville, IN

Fairbanks

Fargo - Moorhead

Fayetteville, AR

Fayetteville, NC

Flagstaff

Flint

Florence, SC

Florida Keys

Fort Collins

Fort Myers-Naples

Fort Wayne

Fresno

Gainesville

Gallup

Gatineau

Golden Triangle

Grand Forks

Grand Rapids

Greater Maine

Greater Williamsport

Green Bay

Greenville, SC

Guadalajara

Guanajuato

Guasave

Guaymas

Gulfport-Biloxi

Hamilton

Hampton Roads

Harrisburg

Hattiesburg, MS

Hermosillo

Honolulu

Houston

Huntsville, AL

Indianapolis

Inland Empire

Iowa City

Irapuato

Jackson

Jackson, TN

Jacksonville

Johnstown-Altoona

Jonesboro

Juneau

Kalamazoo

Kansas City

Kauai

Killeen

Kingston

Kitchener-Waterloo

Knoxville

La Crosse

La Paz, Mexico

Lafayette, LA

Lancaster, PA

Lansing

Laredo

Las Cruces

Las Vegas

Lawrence

Lawton

Lehigh Valley

Leon

Lethbridge

Lexington

Lincoln

Little Rock

London, Ont

Los Angeles

Los Mochis

Louisville

Lubbock

Macon

Madison

Manhattan

Mankato

Maui

Mayaguez

Mazatlan

Memphis

Merida

Meridian

Mexicali

Mexico City

Miami

Midland-Odessa

Milwaukee

Minneapolis - St. Paul

Mississippi Delta

Missoula

Mobile, AL

Modesto

Monclova

Monroe

Monterrey

Montgomery, AL

Montreal

Morelia

Myrtle Beach

Nacogdoches

Nashville

Navojoa

New Hampshire

New Jersey

New Jersey (Shore)

New Orleans

New York City

Niagara Region

Nogales

North Georgia

Northern Missouri

Nuevo Vallarta

NW Indiana

NYC Suburbs

Ocala, FL

Oklahoma City

Olympia

Omaha

Orange County

Orlando

Ottawa

Outer Banks, NC

Oxford

Palm Springs

Panama City, Fl

Peninsula and SW WA

Pensacola, FL

Peoria, IL

Philadelphia

Phoenix

Piedmont Triad

Piedras Negras

Pittsburgh

Ponce

Portland

Portland, ME

Puebla

Puerto Vallarta

Quad Cities

Quebec City

Queretaro

Raleigh-Durham

Reading, PA

Red Deer

Reno

Rhode Island

Richmond

Rio Grande Valley

Roanoke-Blacksburg

Rochester, MN

Rockford

Rockies

Sacramento

Salamanca

Salt Lake City

Saltillo

San Angelo

San Antonio

San Diego

San Francisco Bay Area

San Juan, PR

San Luis Obispo

San Luis Potosi

San Luis Rio Colorado

San Miguel de Allende

Santa Barbara

Santa Fe

Sarasota

Savannah-Hilton Head

Seattle

Shreveport, LA

Sioux City

South Bend

South Georgia

South Tennessee

Southern Arkansas

Southern Oregon

Southern Utah

Spokane

Springfield, IL

Springfield, Mo

St Cloud

St Louis

State College

Stillwater

Tacoma

Tallahassee

Tampa Bay

Taos

Tepic

Terre Haute

Texarkana

the Hamptons

Tijuana

Toledo

Toluca

Topeka

Toronto

Torreon

Traverse City

Tri-Cities

Tri-Cities, MI

Tucson

Tulsa

Tuscaloosa

Tyler

Upstate NY

Uruapan

Ventura

Vermont

Villahermosa

Waco

Washington D.C.

Waterloo-Cedar Falls

West Lafayette

West Texas

Western Arizona

Western MA

Western WV

Wichita

Wichita Falls

Wilkes-Barre Scranton

Willamette Valley

Wilmington, NC

Windsor

Winnipeg

Worcester

Wyoming

York-Gettysburg

Youngstown

Yuma

Zacatecas
The Bestreferraldriver FAVORITES
More On This Website
Stay Update:
Get Started
Set up your uber Account and start to earn money