How Much is Uber in Italy?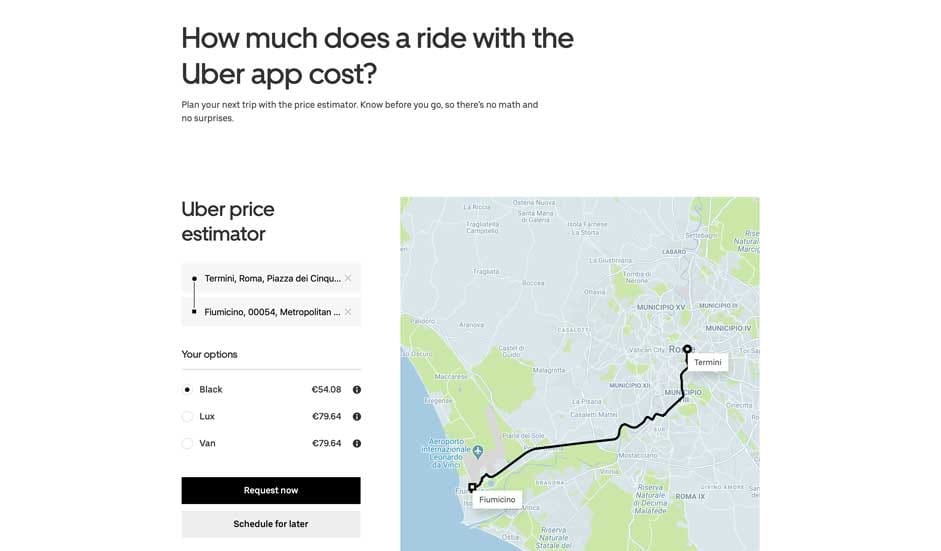 Curious about Uber's pricing? The great advantage of using Uber is that it uses an up-front pricing model. This means that you can find out how much your Uber will cost before you request it.
If you are already an Uber User, just know that the Uber app in the Italian peninsula works the same as in the rest of the world. You do not have to spend time to learn or understand how it works.
Uber offers a variety of service options. They range from cheaper, economy rides to luxury rides. These levels of service have various names, such as POOL, UberX, UberSELECT, UberXL, UberBLACK, UberSUV, and UberLUX.
In Italy you can only find the Uber car 'premium' options:
Uber Black: Comfy sedans
Uber Lux: Professional drivers and luxury sedans
Uber Van: For families or people with a lot of luggage.
This means that the costs of traveling with Uber in Milan and Rome are very high and makes it very similar to the NCC vehicles which are prestigious luxury cars, used by wealthy and wealthy people. NCC drivers are licenced drivers specialized in luxury transportation, with special attention to assisting guests who are traveling for business or pleasure.
The fares of an Uber ride in Italy as in the other country where Uber is available, vary according to the following factors:
Base rate:

A flat rate that covers the pickup price.

Time:

Per-minute rates vary by city.

Distance:

Per-mile rate. You pay for the distance the vehicle traveled during the trip.

Booking fee:

A fee that covers Uber's administrative costs (taxes owed to the local government, and other fees that are often required by law).

Surge Pricing:

When there is high demand and there are more riders in a given area than available drivers.

Tipping:

If you choose to leave the driver a tip, this will be on top to the total cost of the ride.